I had planned to write this review exactly a year after I received the TDC-3, but the coronavirus threw a massive spanner in the works. Better late than never I suppose!
Backstory
As a long-time user of Multi-Deco (arguably the world's best dive planning software), over the years I have exchanged a few technical emails with its creator Ross Hemingway. Early 2019, I was diving in Puerto Galera and randomly emailed Ross re decompression theory. To my surprise Ross was vacationing on the same island, just up the coast from my hotel! We met that weekend for an enjoyable dinner and you can guess what most of the conversation was about.
Anyway, Ross had just recently launched the TDC-3 and showed me the unit he had been test diving that week. I was impressed. It reminded me of my legendary but ill-fated Liquivision X1 which featured a bulletproof design in a tiny package running Multi-Deco as firmware.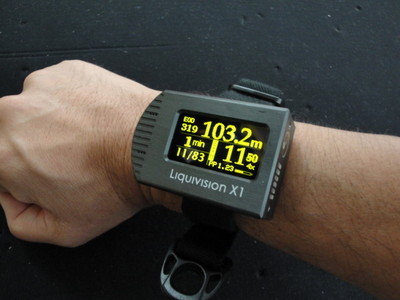 When I returned home after my trip, Ross sent me a TDC-3 for review. Now a year later, it has been dived by myself and my students in various configurations (open circuit, closed circuit, recreational and technical), and we have logged about 100+ dives on it.
The TDC-3 offers a rich set of features, some of which are specific to certain types of diving. So I thought it would be better if I listed them here under different categories. Also, please keep in mind this is not a complete list of features – just the ones that stand out for me.
General features which I like
Innovative battery management
To begin with, the TDC-3 has user-replaceable batteries. I'm not a fan of dive computers which force you to visit a service centre when the battery needs replacement; they tend to die at the most inconvenient time and place! It takes about a minute to change the TDC-3's batteries.
The real game changer is the dual battery system. Similar to rebreathers which use back-up power supplies, the TDC-3 has two independent battery compartments. These are internally sealed, so even if a compartment floods, the computer itself is not affected. Furthermore, if battery A fails for any reason, the TDC-3 automatically switches to battery B.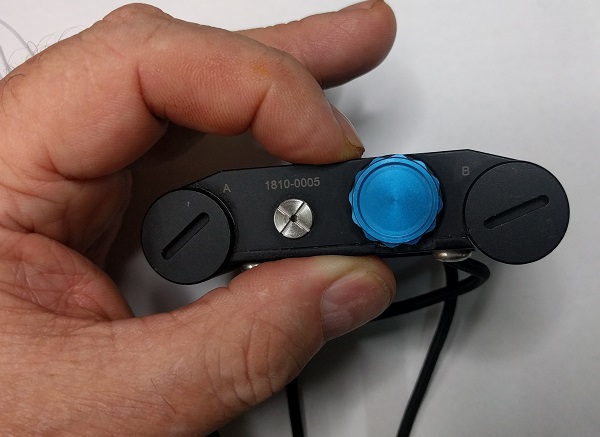 Safety aside, this also means you don't have to throw away a half-used battery because you think it won't last the dive – a decision we are often forced to make with single battery computers (which is not very environment-friendly either).
The TDC-3 prefers to run on two Saft 3.6v lithium batteries (they last about 6 months each if you dive every weekend), but in a pinch you can use alkaline AAs. These will not last as long but I have tested them on several dives and everything works fine. And finally, catering to a worst-case scenario, the TDC-3 will let you dive with just one battery if you have no other choice.
A cool feature which I really like is the built-in battery test where the TDC-3 puts each battery under actual load to generate a real-time voltage curve.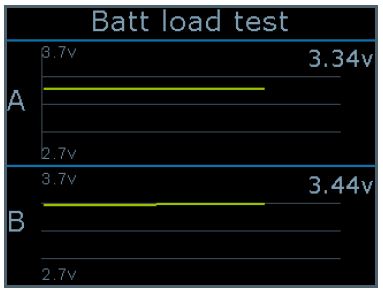 Tough aluminium casing with massive display
The TDC-3 is not as small as the X1 but it is as tough. Made of aircraft-grade anodised aluminium, its low profile sits flat on your arm/wrist. The screen is made of some special mineral which takes a surprising amount of abuse. My demo unit has really been knocked about by students and yet there is no discernible damage to the screen – other than a few streaks of aluminium rubbing off from a boat ladder which a student drifted into.
The display is huge and easy to read from any angle. The colour scheme can be freely configured, but I am quite happy with the default settings. The important numbers (depth, time, deco) are nice and big for those of us with older eyes.
Intuitive tap interface
Similar to the X1, the TDC-3 offers a tap interface. You tap the unit up/down and right/left to navigate the menus and make changes. But unlike the X1, the TDC-3 also offers two push buttons for divers who prefer a conventional interface. You can configure this entirely to your liking. For example, I have enabled the taps for surface mode since they move very quickly through the menus, but disabled them in dive mode because I prefer the buttons underwater.
Wi-Fi and cloud server
The TDC-3 connects to its own cloud server via Wi-Fi. No need for any dongles, apps or devices. No matter where you are, if you can access a Wi-Fi connection then you can upload dives and download updates. Later, if you like, you can use the TDC-3 dive log software to download your dives from the cloud to your computer.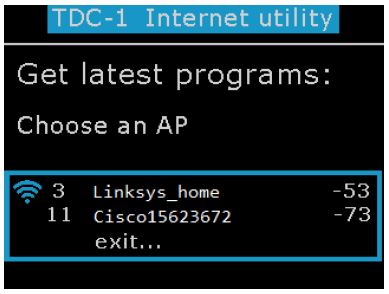 Note, the Wi-Fi feature does not work if your TDC-3 is running on AA batteries (not enough power). This should not be a problem because the TDC-3 can internally store up to 1000 hours of dive data (that's more diving than most divers do in a lifetime!), however you will need Saft batteries to download any firmware updates.
Features for technical divers
The TDC-3 is popular with technical divers because it runs on Multi-Deco. Why is this a big deal? Well to begin with, you have a choice of different deco models which you can personalise to your heart's content. Unlike other dive computers, the TDC-3 does not restrict you to one deco model, or ask you to pay extra for additional models.
Next, if you already use Multi-Deco (laptop or smartphone) for dive planning, then your plan and your TDC-3 will be in sync throughout the actual dive (assuming you follow your plan). This makes a big difference on long multi-stop dives, where non-Multi-Deco computers will deviate significantly from your dive plan.
Speaking of dive planning, I like the TDC-3's powerful dive planner – essentially a miniaturised version of Multi-Deco. Unlike simple planners on other dive computers, the TDC-3 lets you configure many parameters. Of course, there's no doubt that Multi-Deco is much easier to use on your laptop or smartphone, but having a full-featured dive planner on your wrist comes in handy.

Features for rebreather divers
One of the things I loved about the X1 was the option to configure multiple bailout plans (most dive computers offer just one bailout plan). The TDC-3 continues that tradition and allows me to setup different bailout strategies. A fast bailout plan with minimal deco for an emergency where I must surface urgently, and also a more conservative bailout plan with increased safety and longer deco. If I must bailout, I can use either plan depending on the circumstances.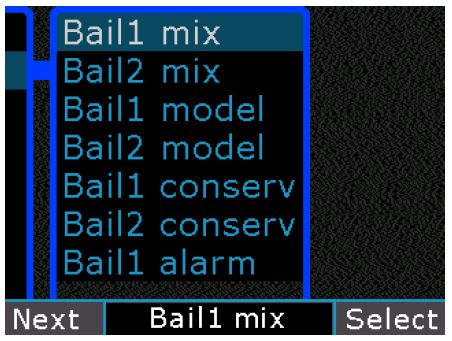 Recently, the TDC-3 also introduced an external port version for divers who want to plug in their rebreathers and monitor PO2 real-time.
From an instructor's perspective
I have loaned the TDC-3 to students at all levels (Open Water to Tec 50) to see how they react to it. Other than the unit sliding around on thin wrists (mostly kids and petite ladies), everyone has been happy with it.
One feature which I use frequently as a teaching aid is the real-time dive simulator. You can take the TDC-3 for a dive, sitting right there in the classroom. I use this to show my students how their NDL decreases with depth/time, how Nitrox affects NDL and so on. Similarly, my technical students can practice gas switches, lost gas scenarios and bailouts – and instantly see the effects of their choices on their TTS (time to surface).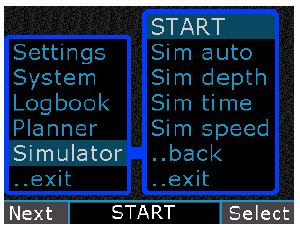 Another feature I have "invented" is the remote download of a student's dive data. I mostly use this for technical training where students are diving my TDC-3s. The units stay with them throughout the course, but every evening they upload the day's training dives once they are back home or at their hotel. I then use the Multi-Deco Divelogs software on my desktop PC to download their dives from the cloud.
This enables me to evaluate their ascent/descent rates, gas switches, deco stop discipline etc and discuss it with them the next morning – complete with printed dive profiles! It saves a lot of time and hassle. I also like the fact that the units stay with the students so their tissue data remains valid throughout the course.
Room for improvement
For a new computer, fresh on the market, the TDC-3 delivers a solid performance. My initial demo unit experienced a few snags here and there, but these appear to have been addressed with firmware updates. There are just a couple of areas where I feel the TDC-3 could improve a little.
Surface display brightness
When the TDC-3's display brightness is set to AUTO, the display is difficult to read in direct sunlight (e.g. on the boat deck). The problem is fixed if I switch brightness to HIGH. But the HIGH setting is too bright for ordinary use (hurts the eyes!), so I must switch back to AUTO once I am done. To be fair, the AUTO setting does a great job adjusting the brightness (and optimising battery usage) to suit various lighting conditions – it just struggles to compensate for very bright sunlight. Having said that, I have found other dive computers which feature colour screens to have the same problem.
(Edit 9 June 2021) Surface display brightness has been addressed in the new units. The display is now easily readable on the boat deck under sunlight using the AUTO setting.
Compass
The TDC-3's built-in digital compass works well but it might be easier to use if it were a little bigger. This is not a problem as such, because I personally prefer independent compasses for any serious navigation tasks. However, a bigger compass display would probably make the average diver happier.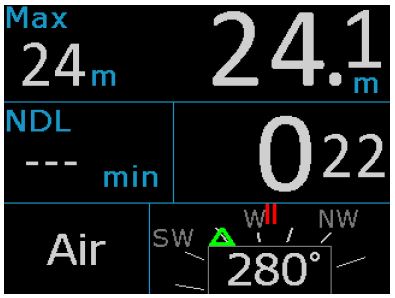 Conclusion
In my opinion, the TDC-3 raises the bar for technical dive computers. Just like the X1, it introduces exciting new concepts in design and functionality. Reasonably priced, the TDC-3 offers a lot of computer for the money, especially for technical divers. Built tough, it does not mind being dropped, sat on, banged up and passed around like the village bicycle. And as I have discovered, even recreational divers enjoy diving with it.
June 30, 2020
Thank you for reading! For more information and photos, visit the TDC website where you can also download the user manual. If you have any questions about this review, please comment below : )